Get your first ride FREE! Sign up here!
The on-demand ride service, Uber, has been operating in Winston-Salem for over four months, with fast growing popularity amongst Wake Forest students. Uber has become a more convenient alternative to taxis in major cities around the world, but the change doesn't stop there:
Uber customers request a ride on their smartphone, and then a pre-screened driver arrives in minutes ready to drive you wherever you need to go. 
Uber currently offers its budget UberX service in Winston-Salem, which is provided by drivers who pick up customers in their own cars. For safe measure, each customer is required to provide feedback on their ride experience, 1-5 stars.
We decided to take a trip to one of Winston-Salem's popular coffee shops, Camino Bakery. From Wake we rode in a taxi and we returned in an Uber. Here are the highlights from our discussion with key stakeholders affected by Uber's introduction: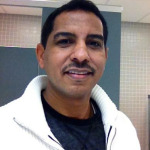 Uber Driver – Hamad
How did you hear about Uber?
I heard about Uber through a friend who drives full-time in D.C.. I applied and passed their background check. Then I had to show them my car, which had to be from 2005 or later.
How long have you been driving?
I've been with Uber for two months. I really like it.
What differentiates Uber from other part-time or full-time jobs?
I'm my own boss. I set my own hours, it's perfect for my free time on weekends.
Where are most of your customers?
I'm from Greensboro but I mostly drive in Winston-Salem.
How long do you work?
I usually work a few hours during the day on Saturday and Sunday.
 About how much do you make?
Uber drivers take home 80% of the trip total.
How is the competition amongst Uber drivers and taxis in Winston-Salem? 
The taxi drivers seem to be upset that Uber is taking over a lot of business. 
Any last thoughts?
I believe Uber is going to be something huge. We are just at the tip of the iceberg.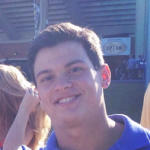 Student –  Chris Ditta
How did you hear about Uber?
I first heard about Uber from my older brother, who lives in New York City.
How often do you use it?
I use Uber about once a month, because even though I have my own car, it's a great supplement for going downtown.
 Why do you choose to use Uber?
Regular cabs are too much of a hassle, booking a ride via Uber's app is just too convenient.
What's your favorite thing about Uber?
My favorite thing about uber is that its cash free; it goes right to your card so you don't have to worry about fares and tips. I've yet to have a negative experience using Uber.

     City Taxi Commissioner – Rod Ring
Have you heard of Uber?
 Yes, I've heard they have been operating here for several months. 
How do you you feel about Uber?
As a regulator, I don't have an opinion on them. There's a new North Carolina state law that prohibits the regulation of services with digital dispatch. I believe Uber falls under this category.
Is Uber violating any city laws?
Typical vehicles for hire in Winston-Salem require a franchise application (3 years), driver background check, and vehicle inspection. Uber has not completed any of these items through our office, but under North Carolina state law they are not required to.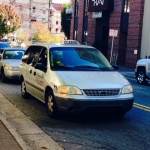 Traditional Taxi Driver – Juan Bugg
Have you heard of Uber?
Yeah, I've heard of it, a lot of other drivers have been talking about it.
Have you noticed a decrease in fares from Wake students?
It hasn't impacted me personally, most of my customers are local Winston residents. I haven't noticed it, I don't feel any difference.
 Have you seen people using Uber?
 Not really, most of what I've heard has come from complaints from other taxi drivers.
How would you feel about driving your own car?
 Personally, I'm happy to drive a cab. A lot of our customers don't even have smartphones, so there will always be business for me.
 How much do you pay the cab company to lease a car?
I have to pay to lease the cab from Classic Cabs, and I pay for my own gas.
 . . .
A comparison of our trip to and from Camino Bakery:
Taxi
Uber
Time to pick up                                  
11 minutes
12 minutes
Type of car  
Ford Minivan

_____

Toyota Camry
Comfort level
Excellent
Excellent
Driver knowledge & friendliness
Excellent
Excellent
Cost
$10.50 + tip
$10.43
Overall we were happy with both our taxi and Uber experience. Uber is certainly facing growing pains that come with any radical change in consumer preferences. However, they are quickly establishing themselves as a competitive and accessible competitor in the taxi market in North Carolina and around the world.