If the boom of the blockchain and cryptocurrencies leaves you wondering how all of this new technology was seemingly created overnight, then you're not alone. Let me explain:
When the former NBA star Dennis Rodman pays a visit to his unusual friend, the supreme leader of North Korea, Kim Jong-un, he uses mutual interest in two activities to bond friendship with the infamous dictator: basketball and smoking.
While Kim Jon-un's love of smoking is no secret (according to Newsweek he started smoking as early as age 12), it is surprising that the typically ultra-conservative dictator tolerates weed usage, according to a report from Vice.* What's more, Rodman's most recent trip to North Korea in June 2017 was financed as a marketing stunt by the then little-known alternative ("alt") coin dedicated to providing financial services to the marijuana industry: Potcoin.
Like many others following the cryptocurrency industry last summer, I was intrigued by Potcoin's high profile sponsorship. So, I began researching more into what was bringing Potcoin to a new all-time-high.
Unfortunately, the most interesting feature of the Potcoin project is their unlikely alliance between a cryptocurrency upstart, NBA star, and North Korean dictator. While Potcoin's primary feature makes for an interesting script as a Hollywood comedy movie, it leaves much to be desired from its underlying blockchain technology.
In 2015, as an early adopter of Proof-of-Stake mining on top of a fork of Litecoin, Potcoin could've been considered ahead of its time. However, today, like many other altcoins, Potcoin hasn't seen any development activity on its core blockchain in years. Potcoin, for lack of a better word, is overbaked.
Don't take my word for it. Potheads on Reddit are asking, "Is this community dead?", and likewise for developers on GitHub, "Potcoin dead ?":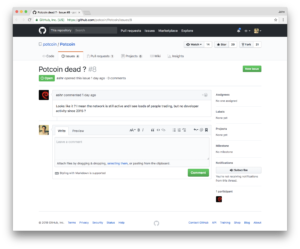 This contributor, ashr, put it nicely: "Looks like it ? I mean the network is still active and I see loads of people trading, but no developer activity since 2015 ?" That's right, trading volume is more than $100k/day in recent days, however, there has been literally zero developer activity on the core technology over the last 2.5 years.
It's safe to say Potcoin quickly lost my vote of confidence as a promising altcoin. But are there other similar stories out there? Of course. Next, I wondered how I could stay in the know.
Introducing Coin Changelog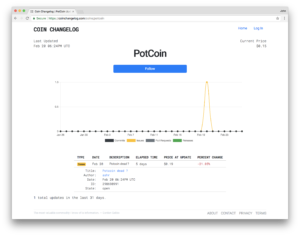 Despite an abundance of resources for tracking the price movements of a variety of greenfield altcoins and overbaked coins alike, I found it frustrating that it was a cumbersome process to research and track the development updates of these new projects. Why has no one prioritized tracking the actual development activity on the blockchains themselves? After all, the overwhelming majority of blockchains are open-source.
So, I built Coin Changelog myself. The premise is simple: you follow the coins you find interesting, then you get an email once per day that discloses all of the development activity related to the coins that you follow. If you're curious how a particular commit, issue, pull request, or release is affecting price movement, then that information is also provided to you in the web user interface as well. Give it a hit, I'm curious to hear what you think:
*Note: a recent article in Business Insider raises questions on this claim.