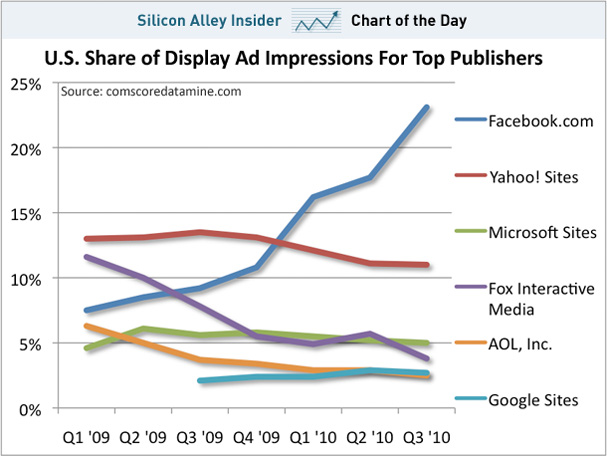 In the past year, Facebook has been successful in doubling the millions of daily impressions that their U.S. users generate. Facebook has asserted itself as a dominating force in display advertising, now delivering 25% of the total U.S. display impressions. The closest competing firm is the network of Yahoo sites, with a 12% share that has been on the decline.
Whether or not Facebook's impressions are desirable or not is another question, but Facebook certainly has more targeted impressions to sell than anyone else. As Facebook continues to practice its mission, "Give people the power to share and make the world more open and connected.", users are becoming more engaged in the ads that they interact with on the site. This will continue to create a more relevant user experience for their users, and provide more targeted advertising opportunities. Advertisers who have not already launched campaigns on the Facebook advertising platform should become familiar with it as soon as possible. Facebook is serving a significant chunk of the pie to millions of internet users, and with their accelerating growth, it's not far off to say that they can soon control display advertising similar to how Google dominates search ads (78%).
For the start of the upcoming 2010 holiday season, several national brand advertisers have launched their marketing campaigns on social sites. Brand advertisers are finding social sites to be the best platform for their holiday campaigns because they can acquire customers and raise awareness for a charitable cause in a single transaction. For example, Gap launched a campaign last week that asks users to "Like" their ad. When a users clicks "Like" on the ad, Gap donates $1 to a charity, and the users receives a 30% off coupon. The national brand advertisers are locked into more deals on social sites this year, especially considering that the purchases of holiday shoppers are likely to be influenced by social media.
More statistics on this data set can be found in the comScore report.