In U.S. in particular, it's becoming especially clear that the cost of college is growing unsustainably. From the surprise closing of Sweet Briar College, to world renown academic Noam Chomsky denouncing the American University, you know things are getting bad when institutions of academic success are waving flags for help. I am a senior in college who is graduating from Wake Forest in a few weeks, and I promise you that this distinguished school in the American South is hardly an exception. Let me explain:
Over my time at Wake Forest, the annual cost of attendance has risen at a compounded rate of 3.7%. Standard inflation is about 2%.
Over just the four years since I started here, the excessive cost is noticeable. Below is a chart comparing annual cost increases at the Wake Forest compounded rate, 3.7%, versus standard inflation, 2%, during the four years following the academic year of 2009-10, which cost $49,032: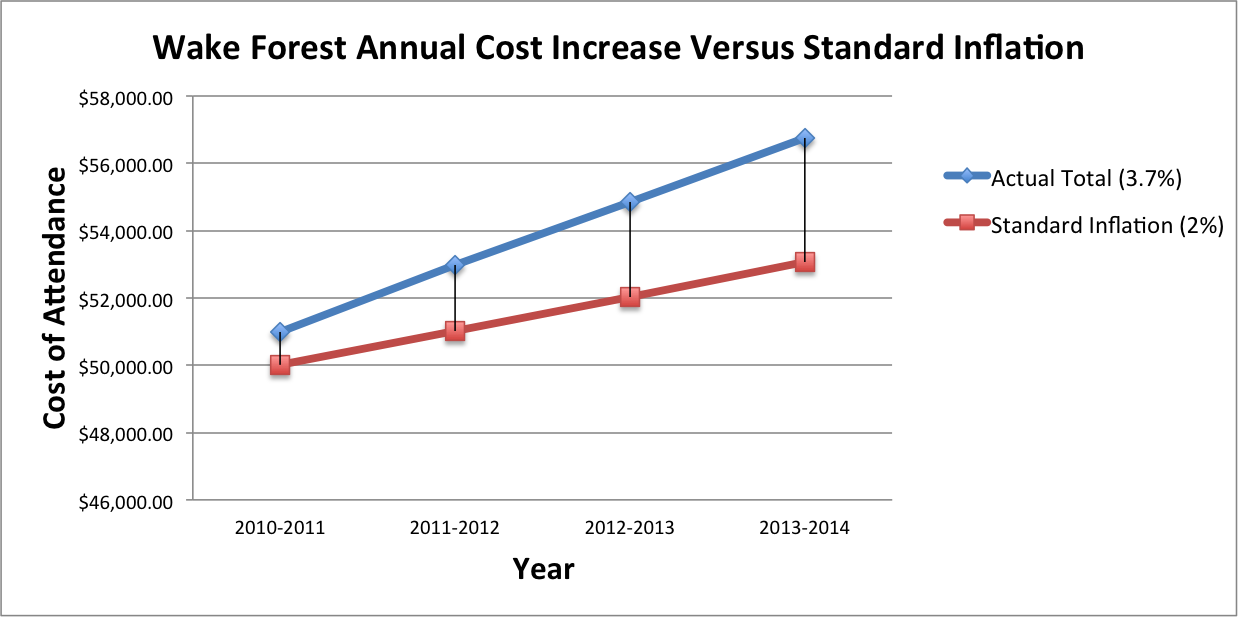 As the graph indicates, excessive cost increases have caused the annual cost last year (2013-2014) to be about $3,668 more than the cost would've been at standard inflation rates. This trend has been underway for decades, and there are no signs that the cost increases will slow down.
The average person may say, "Oh, well Wake Forest must be increasing the quality and variety of their academic programs to stay competitive.". Sadly, according to the Instructional Expenses per Student report published in 2014, the number of dollars spent per student has actually gone down over the past four years!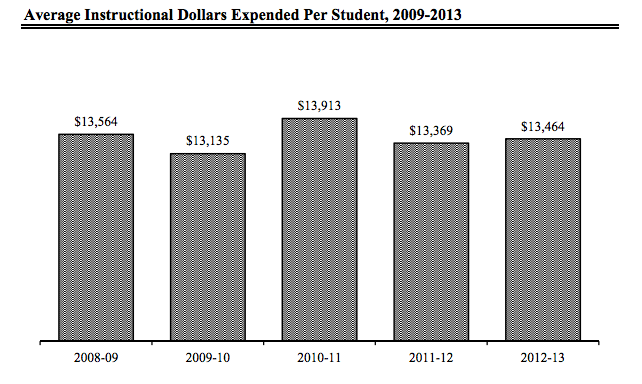 What is happening, in my opinion, is an arms race to build the most attractive facilities and amenities before the education bubble bursts. College's in the U.S. have essentially become an amorphous packaged goods product, and the desire to pick a school with a really shiny package of goods is stronger than ever before. No longer are students on campus for the lectures on Keynesian economics; they are attracted to and stick around for the sports, farm-to-table food, and lavish gyms.
Not surprisingly, amenities such as newly built dorms are equally over-priced. Consider that the cost of a coveted ~150 square foot Single in the Dogwood and Magnolia dorms next year, 2015-16, cost a total of $10,116, about $1,124 each month (9-month academic year). This equates to a $89.92 per square foot rental price.
To put this in perspective, the average Rental Price per Square Foot in Manhattan is currently $55 (Elliman), with the Luxury market topping out at $79/Sq Ft. Thus, the Wake Forest dorms, which offer "generous" amenities such as "free" laundry, utilities, and 24/7 security, are over 60% more expensive than New York apartments, one of the most expensive real-estate markets in the world.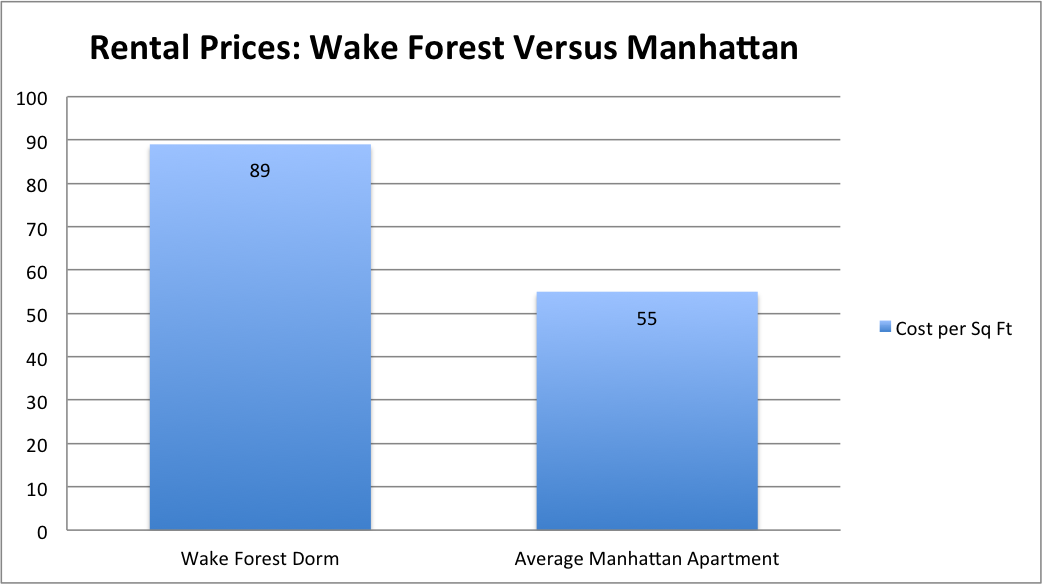 In the end, I think the hope of most students is a valuable credential that's helpful towards getting a job. But when the average starting salary for Wake Forest grad's is $53,300 (Payscale) and the average debt per Wake Forest student is $35,902 (Princeton Review), that student debt could burden many graduates into their thirties.
By the way, Wake Forest scores the highest student debt burden among the Princeton Review's 150 "Best Value" colleges for 2014. It's no wonder that students have been increasingly responsive to "microaggressions" occurring around campus in recent years.
So, what's an senior in high school supposed to do? That answer depends on their financial situation. If their parent's aren't paying for the cost of college and they aren't selected for merit aid, then they might be able to get a decent deal at certain community colleges and state universities.
I think that within five to ten years, the cost of private higher education will reach a tipping point and demand will swing towards alternatives. However, for now I've got some walking to do.