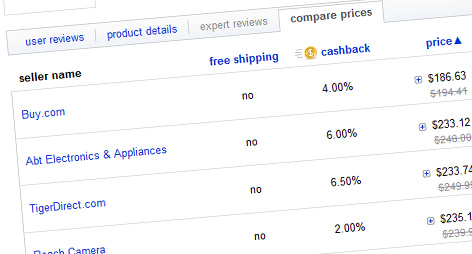 Now in the heart of holiday shopping season, the prices found online this year are irresistible when taking a glance at the virtually unheard of deals. Almost all of the best deals that I have come across, are part of the Bing cashback program. In the Bing cashback program, consumers are rewarded for making purchases online by receiving a percentage of their sale back as a rebate, varying among retailers. This allows online retailers to spend their ad dollars on the high ROI, cost-per-action (CPA) basis. With Bing charging advertisers on a CPA basis, the ad revenue generated from the CPA sale allows Bing to reward consumers by giving a percentage of the revenue back, thus cashback. This cash incentive for the consumer helps advertisers increase conversions on their site's, and subsequently higher ROI.
Now, the remaining question is how can advertisers afford to payout such a significant portion of the sale to Bing? The answer lies in the fact that the advertisers/retailers no longer have to run PPC campaigns on Bing, which previously ate up a significant chunk of their ad spend and often delivered lackluster results. Advertisers can then payout between 2-25% of each sale to Bing, who then pays the consumer for participating in Bing cashback. Additional perks include advertisers with a cashback campaign receiving higher organic placement in the search rankings, which ultimately increases sales.
For most of the retailers participating in Bing cashback, it is their first advertising campaign based on the performance driven model. So far, the results have been impressive with eBay drawing attention for the most initial success in this case study. With Bing cashback, everyone wins, but most of all the consumers who receive great deals and great products, which hopefully improves their quality of life. Additionally, advertisers increase their ROI with more sales and Bing increases advertising revenue. In other words, this is a performance marketing win!
Setbacks worth noting:
– Only available to users based in the United States
– Cashback may not be paid for up to 60 days.
More information on Bing cashback for consumers and advertisers.