I recently signed up to be a Postmates courier in order to make a few extra dollars on weekends, and to gain a better understanding of how the on-demand economy operates. The on-boarding process was simple and easy: a background check, 30-minute demo at Postmates HQ, and finally activation on their courier app.
One particular Saturday a few weeks ago, I logged on to the Postmates courier app and I accepted orders as they were typically dispatched: two coffees from Sightglass, a burrito from Chipotle, a bottle of Advil from Walgreens. Then an unusual order popped up: a Samsung Galaxy Tablet. Woo! I accepted the order right away and proceeded to the Metreon Target to pick one up. I was excited to see this order, because as the Postmates community manager noted during his demo, orders for high-priced electronics typically correlate to higher tips.
I arrived at the Metreon Target and purchased the ~$300.00 Galaxy Tablet with ease: As a new courier for Postmates, I did not yet have a dedicated "Pex" card (a corporate debit card used for making purchases) with my name on it. But the store clerk had no issue. I identified myself as a Postmate and she processed the transaction.
I was on my way with the Galaxy within just a few minutes of entering Target, and I headed just a few blocks north towards the customer's address on Geary St, near Union Sq. Then the situation started to get fishy…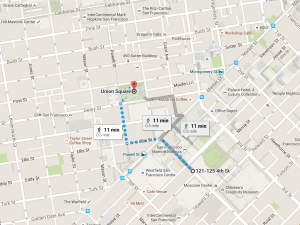 The customer called me to make sure I was able to pick up the Galaxy Tablet. I assured him I had just picked up the Galaxy and I would be arriving within a few minutes. He said, "Ok, good, but I'm not at the address. But I'll be nearby. Call me when you are nearby.", with a screechy and nervous sounding voice.
Minutes later, I was passing through Union Sq, and I called the customer to let him know I was nearby. He answered, and immediately notified me to meet at the South-West corner of Union Sq, at Geary and Powell. I became more suspicious, knowing that my prior Postmate deliveries required delivery at an exact address listed in the app. However, eager to complete the delivery, I continued to the corner of Geary and Powell, and I waited.
After a few minutes of waiting, I called again to notify the customer that I was at his desired meeting place. He answered and let me know that he was right nearby, and will be arriving wearing a green jacket. All of the sudden I realize that I am on one of the most densely populated pedestrian walkways in San Francisco. Thus, a meeting in a highly public place is probably for the purpose of anonymizing the transfer of goods. This was a dangerous situation.
A minute later, a scrappy man in a dirty green jacket walks up to me (as I'm holding the Target bag), and I transfer the bag with the Galaxy inside. That's it. I reported the sketchy circumstances of the transaction in the Postmates order feedback, but I haven't heard anything since.
Below are some photos of the customer walking to his (presumably homeless) buddies who were sitting on the sidewalk at Mason and Geary St. He approaches them, gives a high-five, and then walks away, and disappears into the Jack in the Box, and a $50 tip appears in my Postmates app.
What do you think? Have you heard of any similar scenarios?