Rarely these days does a new online community or news site enter my daily direct search routine (meaning that I directly navigate to the site daily on instinct). The bar for producing consistently high quality content is usually too high for any small group of people, thus a strong founding community is necessary. Product Hunt has that passionate group.
Product Hunt is a curated list of the best new products discovered on the web, every day. They have a strong community of early adopters who submit new products that are then curated by the Product Hunt team. I believe they are going to be a big deal.
Andreessen Horowitz recently lead their $6 million series A funding round at a $22 million valuation. But this is just the beginning… I could easily see Product Hunt growing into a $100 million company. Why? Seemingly overnight, they are now consistently ranking as a top two thousand website in the U.S..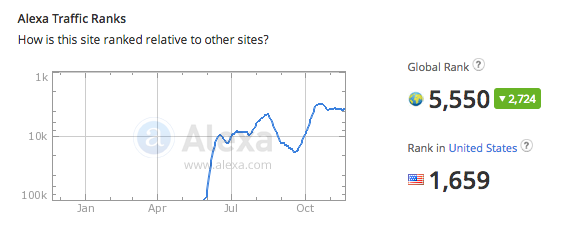 The climb to acquire new loyal fans beyond investors, founders, and other early adopters will be more difficult. But each new Product Hunt user is far more valuable than a new user on a purely social site such as Reddit or Facebook. Regular users on Product Hunt are using the site with their wallets open; they are ready to test and buy.
Ryan Hoover, founder and CEO of Product Hunt, recently stated in a Forbes interview:
In the short term, we're going to see more and more products being launched and being scooped on Product Hunt because there are so many users and products and their motivation will be the first one to submit them.
Typically in the past, startup founders building technology products have often introduced their work to the world via a "TechCrunch of Initiation" or "Show Hacker News", both of which contain the early adopter audience but are not particularly optimized for showcasing products. Product Hunt provides the community interaction through comments but does one better — they segment new submissions by day and curate the content.
Product Hunt is product filtering, not product search. They are providing a classic synaptic web improvement. They are "…making connections between the content and conversations in your daily life and your current interests and future intents" by adding a little "…machine learning, human teaching and user experience improvements.". This has lead to a phenomenally simple and reliable service for curious minds.
Overall the first year of Product Hunt has been an impressive one. I'll be tracking this company closely.