It's that time of year again: spring cleaning, summer planning, and you can finally feel the heat of the sun on your skin again. But most importantly, it's the end of Miami Music Week, the undisputed leading electronic dance music event in the world.
During Miami Music Week, the top DJ's, record producers, club owners, and fans from around the world flock to Miami, Florida for a week of sharing and listening to new electronic music. Topping off all of the festivities is the Ultra Music Festival, the greatest electronic dance music event of all-time.
I don't usually write about events because the quality of specific events tends to be subjected to waves of pop-culture interest, but Ultra is different in my opinion. It's unlike any event I've ever experienced.
I first heard of Ultra when I went shopping for computer speakers at a Best Buy in South Miami during the summer of 2010. The Best Buy rep asked if I had heard about this thing called Ultra – An all-night dance party on South Beach. I told him no, but I was immediately intrigued.
Throughout the next year my exposure to EDM increased and things started clicking when I stumbled onto Avicii's set from Ultra in March 2011. There, on Ultra's main stage, Avicii debuted "Levels". Over the course of the next year Levels became a worldwide sensation and finally brought EDM into mainstream pop-culture.
Beginning in late 2011, everywhere from the frat house to the local coffee shop to H&M stores were playing Levels or a derivative of electronic music. This wave of interest had me hooked and I was all set to attend Ultra in March 2012. Unfortunately the timing didn't work out because I was participating in the Y Combinator Winter 2012 funding cycle, and I ended up watching Ultra 2012 from my computer monitor.
However, the next year in 2013, I vowed to make all efforts to attend. It was well worth the wait.
What is Ultra like exactly?
Ultra is a three day dance party in Bayfront Park, Miami, Florida. Nearly 100,000 people attend during the weekend, including people from literally everywhere in the world. Koreans, Swedes, Italians, Brazilians, Bahamians, Australians, Germans, and many more take pride in their identity by wearing their country flag throughout. And the majority of attendees enjoy the festival from 5:00PM – 12AM each day.
The synths of electronica radiate throughout the park, originating from one of several stages setup in a theme park layout. Most Ultranauts are likely to spend a decent amount of time at the Main Stage where the headline acts perform, but most people are also frequently interweaving throughout the weekend to see their favorite sets.
Beyond the waves of euphoric house music, creative stage designs, costumes, and endless dancing, is the rave culture "PLUR". Peace, love, unity, and respect. Tony Hsieh from Zappos talks a lot about this culture and its positive impact on his life and business. When you are at Ultra, most people are extremely friendly and respectful. It's not uncommon for strangers to share light diffraction glasses, or for random people to talk to you about interesting things on their mind.
Don't believe me?
My sister Megan posted this photo tonight from the plane she flew on from Newark to Miami. Already a great new experience, new friends, and the common bond is Ultra. Oh by the way, Ultra knows it too, they retweeted the photo: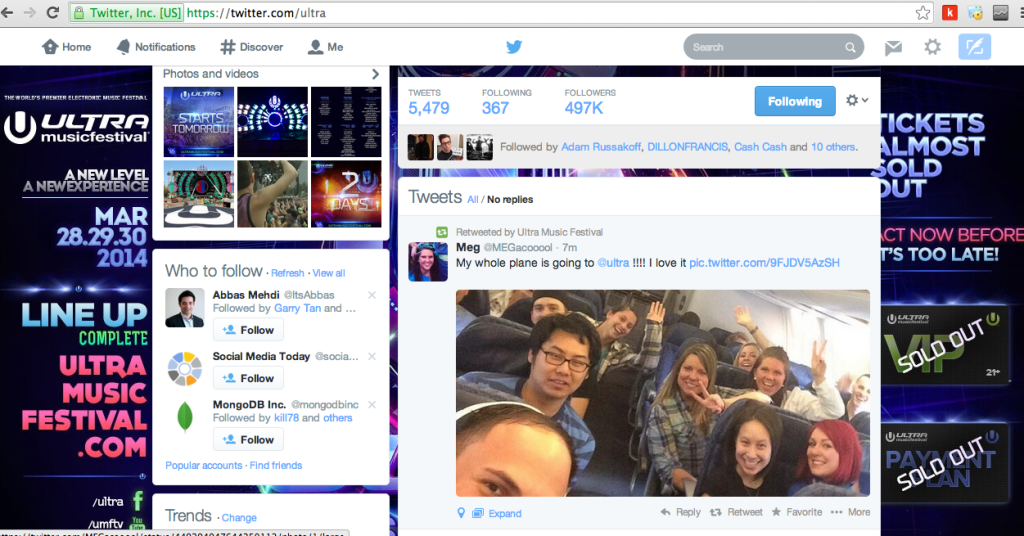 For three days, Ultra is community of people who are celebrating house music, friendship and happiness.
The great philosopher Ludwig Wittgenstein once said "The limits of your language are the limits of your world." While I normally would agree with this statement, Ultra is not complicit. Ultra puts traditional language aside for a weekend and uses electronic music to open up the world.
P.S. here's a great new track from 3lau who will be kicking off Ultra 2014: