If you haven't noticed recently, all media outlets usually wind down the year with numerous publications on the year in review, or in this case the entire past decade. On the contrary, today the MediaTrust blog published a blog post containing the "Top 10 Predictions for Digital Marketing in 2010". For this forward thinking post, I was honored to contribute my predictions on the near future of digital marketing.  So, if you haven't already seen my predictions, here they are:
#9. Spending for online video advertisements will continue to increase due to the expanding amount of feature programs now available online.

#3. Consumers will begin to see much more relevant online advertisements due to expanding ad-targeting capabilities, which will be drawing from social media profiles in particular.
To elaborate on #9 briefly, online video is emerging with endless advertising opportunities. Some quick facts: YouTube is the #2 search engine, behind Google of course. This means that consumers demand video, and the advertising dollars will follow the consumers.
As for the # 3 prediction, ad-targeting is now more precise than ever with the amount of data ad servers can use in their tracking algorithms. Consumers will begin to see much more specific advertisements, that relate to the content their browsing history and content published online. Furthermore, the IAB will begin to assume more responsibility for making sure that the ads are targeted towards the right people.
Case in point:
Today I was browsing AOL's video website SlashControl.com when I came across an ad on their homepage. Take a look- (Click the image for a close up!)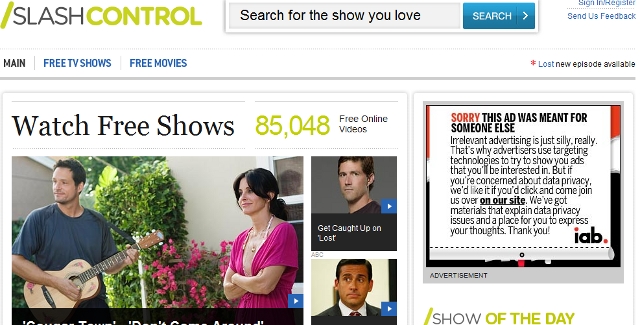 How cool is that? The ad server actually detected that the ad about to be shown would have been irrelevant to me, and thus a waste of the advertisers budget. I was impressed by this real-time action to maintain relevance and create a mutual win-win situation between consumer and advertiser. For more information on this function implemented by the IAB, along with other ad targeting information,  visit their site here.
I look forward increasing relevance and transparency in digital marketing, in 2010. Good luck in the new year!